Here are some tips to make your trip more comfortable.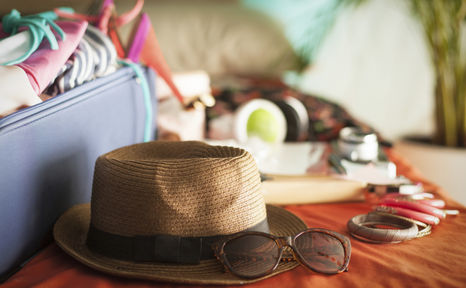 Arthritis shouldn't restrict your ability to travel. Here are three tips to follow when planning your next trip:
1. Be mindful of the weather
Many people who have arthritis insist it's no myth that the weather or drastic changes in it can affect your health. Some doctors who specialize in the treatment of arthritis agree that weather may adversely affect symptoms. Changes in temperature or barometric pressure, which refers to the weight of the air above you, might trigger joint pain.
The Arthritis Foundation says that researchers at Tufts University in Boston reported that every 10-degree drop in temperature may correlate to an incremental increase in arthritis pain. Though weather cannot be controlled, there are precautions that can be taken before and during your trip.
Hot and cold therapies are great for joint pain and stiffness. Going somewhere cold? Make sure to stock up on heating pads, electric blankets and layers. Heading someplace warm? Put ice packs on your packing list; the cold can help ease joint inflammation. In addition, be sure to utilize the hotel's amenities like hot tubs and saunas for both pain relief and relaxation.
2. Prepare your meals
Although there is no magic food to alleviate arthritis, there are some dietary steps that may help relieve joint pain. According to registered dietitian Ruth Frechman on arthritis.org, "mostly it's just healthy eating, with a lot of fruits and vegetables, whole grains, nuts and seeds."
If you are going to spend time outdoors during your travels, be sure to pack snacks like cherries or nuts to grab on the go. The Arthritis Foundation writes that studies have shown that eating at least 10 cherries a day might help keep painful inflammation and gout flares in check. The relief is attributed to plant pigments called anthocyanins that have powerful antioxidant and anti-inflammatory properties.
Following a diet with an emphasis on lean protein such as fish or poultry can help decrease joint tenderness. If you're heading to a coast, treat yourself to meals with fresh fish. Fatty fish like salmon, tuna and trout are rich in omega-3 fatty acids which may help fight inflammation.
3. Make your flight comfortable
If you plan on flying, no matter how long the flight is, there are helpful ways to feel more comfortable. Make sure to visit your doctor before you leave to ensure you have enough medication for the duration of your trip. With possible flight delays or lost luggage, it might be in your best interest to bring a little extra just in case—and carry it on the plane with you instead of stowing it in your luggage. Also, be sure to inform the airline of your condition so they can provide help as needed. With advance notice, they can provide wheelchair assistance, early boarding, personnel assistance with luggage, shuttle and elevator access, and more.
If you can, try not to schedule a flight early in the morning when you may feel greater stiffness and pain. This pain often lessens as arthritis sufferers begin the day's activities. However, sitting stationary during a long flight could prolong those morning aches. It may help to spring for a later flight so that your joints are allowed enough time to warm up. During the plane ride, try to get up and walk down the aisle from time to time.
For more on traveling with arthritis:
Traveling With Arthritis
More Tips for Traveling with Arthritis
6 Tips for Traveling with Psoriatic Arthritis