Background
The elbow joint displays an elegant balance between stability and mobility. While allowing a wide range of motion, the joint has an inherent stability that requires a considerable force to dislocate. As a result, a significant percentage—approximately one third of elbow dislocations—are associated with fractures of bony components of the elbow. Dislocations without associated fracture are termed simple, while dislocations with accompanying fracture are termed complex.
Dislocations of the elbow fall in frequency just behind dislocations of the finger and shoulder. Most commonly, the elbow dislocates posteriorly. Immediate reduction is essential to reduce the risk of neurovascular or cartilaginous complications.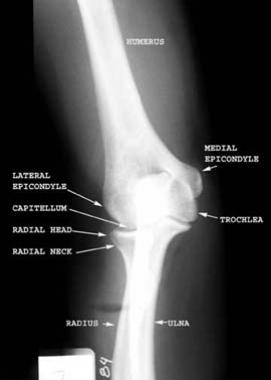 Anteroposterior radiograph of the elbow demonstrates the normal anatomy.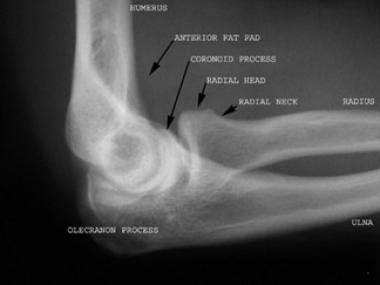 Lateral radiograph of the elbow demonstrates the normal anatomy. Next
Pathophysiology
Both posterior dislocations and anterior dislocations can occur.
Posterior dislocations
A fall onto an extended abducted arm is the mechanism of injury seen in posterior dislocations of the elbow. An example of this is someone rollerblading who, falling backward, extends an arm behind to break the fall. Posterior dislocations account for most elbow dislocations. Closed posterior dislocations are not commonly associated with neurovascular injury.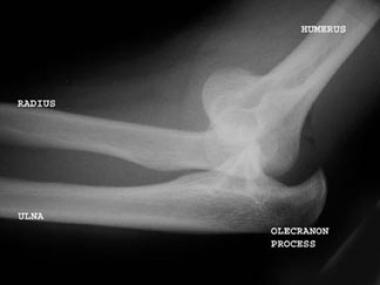 Lateral view of the elbow demonstrates a posterior dislocation of the elbow. The patient also had a nondisplaced radial head fracture.
Anterior dislocations
A strong blow to the posterior aspect of a flexed elbow may result in anterior dislocation of the elbow. This force drives the olecranon forward in relation to the humerus. Anterior dislocations and any open fracture are commonly associated with disruption of the brachial artery and/or injury to the median nerve.
Epidemiology
Elbow dislocation injuries occur more often in males than in females. Dislocations occur more commonly in adults, since the same force in children more often results in a supracondylar fracture of the distal humerus.
Clinical Presentation