Joints in Motion is an organization dedicated to helping those with arthritis get back on their feet.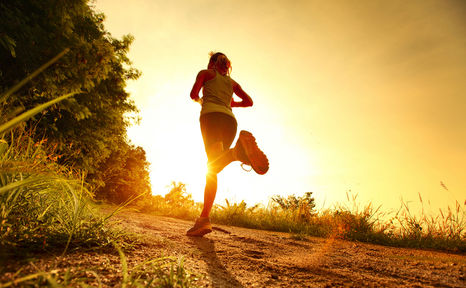 For the estimated 52.5 million adults in the United States who experience arthritis, dealing with the pain can make it hard to pursue previous passions that were once easier to partake in. Running is a common activity that becomes harder to perform when dealing with symptoms of arthritis. But instead of simply believing that your best sprinting days are behind you, you may be interested to learn about an organization that helps people who deal with severe joint and inflammatory problems not only get back on their feet, but also help raise money to find a cure for arthritis.
Joints in Motion is an athletic training program sponsored by the Arthritis Foundation that helps people of all ages and fitness levels to train for races while simultaneously assisting with fundraising efforts that go toward arthritis research. Whether you have never set foot on a racetrack in your life or you're a seasoned marathoner, Joints in Motion will help you buckle down with learning effective racing training methods while also focusing on the most efficient ways to raise money in the name of arthritis. Best of all, Joints in Motion's virtual training guide, online coaching sessions and phone consultant team can help you get involved no matter where you're located!
The Training
The Joints in Motion virtual sessions begin in late August, and after completing registration, signing a waiver and release as well as agreeing to a fundraising commitment, you will be on your way to begin the training process that will eventually lead to participation in the Walt Disney World Marathon Weekend in January.
The training itself does require a combination of determination and dedication, but it's important to know that you'll have support just a few clicks or a phone call away whenever you need it. After deciding whether you choose to partake in walking or running a full or half marathon, you will spend 18 to 20 weeks training for the January race with a virtual Joints in Motion coach. You will have weekly phone conversations with your coach regarding tips, strategies and techniques to implement more successful running tactics, as well as personal guidance in utilizing the proper nutrition, footwear, attire, hydration and any other areas of concern.
If you're worried that because of your arthritis you won't be able to participate, the Joints in Motion team assures that there are many people with arthritis who successfully race in the marathon every year. However, you will need to receive official permission from your physician before enrolling in the training program. Remember, you can always sign up to walk a full or half marathon and be just as involved in the fundraising process as those running the event.
The Fundraising
When you make the decision to get involved with Joints in Motion, you are also providing a commitment that you will hit a fundraising target of at least $2,700 in the weeks leading up to the Walt Disney World Marathon Weekend in January. Part of the money raised goes toward financing the marathon and assisting in your hotel accommodations, while the rest goes to the Arthritis Foundation to continue funding research for curing arthritis. If you find this task daunting, the Joints in Motion team has plenty of tips and resources to help you reach your goal, including official e-guides on fundraising advice, access to your own personal website to spread fundraising awareness as well as phone and Internet contacts to fundraising clinics.
Joints in Motion is a cause that supports those with arthritis by providing confidence to tackle physical obstacles while also gaining the financial assistance necessary to eventually win this ongoing health battle.
To learn more about being active with arthritis:
Pilates Exercises to Ease Arthritis Pain
Aiding Arthritis With Tai Chi
Can Parkour Exercises Help Reduce Arthritis Symptoms in Seniors?