---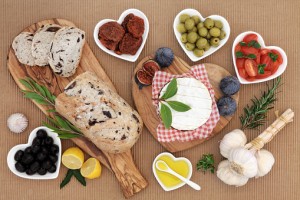 A high protein diet, as seen in the Mediterranean diet, is linked to lower stroke risk, according to new study published in Neurology, the medical journal of the American Academy of Neurology. The research included seven studies with a total of 254,489 participants followed for 14 years on average.
Overall, the participants with the highest amount of protein in their diets – particularly from fish – were at least 20 percent less likely to develop a stroke than those with the lowest amount of protein in their diets.
For every additional 20 grams of protein people ate per day – say a three-ounce serving of chicken or fish, or a cup of beans, for example – their risk of stroke lowered by another 26 percent. The results, of course, took into account other nutrients that may prevent stroke, such as potassium, magnesium, and dietary fiber, as well as other factors that could increase the risk of stroke, like smoking and high cholesterol.
These findings, however, do not apply to red meat, which has been proven to raise the risk for stroke and, therefore, was not looked at in the studies. (Forgo the steak for some wild salmon on the barbecue.)
Also, some evidence suggests that animal protein is more effective than vegetable protein. But at this time, there isn't enough data on vegetable consumption to come to this conclusion.
"The amount of protein that led to the reduced risk was moderate – equal to 20 grams per day," said study author Xinfeng Liu of China's Nanjing University School of Medicine. "If everyone's protein intake were at this level, that would translate to more than 1.4 million fewer deaths from stroke each year worldwide, plus a decreased level of disability from stroke."

Risk factors for stroke
The study's findings may have a significant impact.
Every year, stroke occurs in roughly 795,000 Americans and causes an estimated 137,000 deaths, according to the American Heart Association and American Stroke Association. In fact, it's the fourth leading cause of death in the United States, costing the country approximately $73.7 billion in medical and disability expenses.
Poor diet, especially, is a risk factor for stroke. Foods that are high in fat can lead to a buildup of fatty plaques in the arteries. And this leads to the hardening or narrowing of the arteries, which in turn causes high blood pressure and diabetes, in addition to stroke. Bad news all around.
Generally, stroke prevention should start relatively early in life regardless of the risk.
Because the research incorporates studies with various designs, more scientific studies are needed to fully evaluate the link between dietary protein intake and stroke risk, in particular.
---
Related Reading:
Hip fracture risk in women reduced with Mediterranean diet
Enjoying healthy eating regimen like the Mediterranean diet may help reduce the risk of hip fractures in older women. The study found that women whose diet closely resembled the Mediterranean diet – plenty of fruits and vegetables, whole grains, and fish – had a 20 percent reduction in hip fractures, compared to women who did not eat in this style. Continue reading…
Rheumatoid arthritis management with nutrition, Mediterranean and anti-inflammatory diets
Rheumatoid arthritis management can be achieved through an anti-inflammatory diet and Mediterranean diet in order to reduce inflammation. Nutrition plays a vital role in all of our bodily functions and eating the right foods can mean the difference between good or poor health. Many foods are natural healers, so it should be of no surprise that food can play a role in managing rheumatoid arthritis (RA). Continue reading…
---
Source:
https://www.aan.com/PressRoom/home/PressRelease/1289
---