---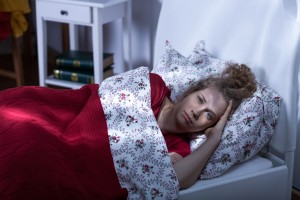 A new study conducted by scientists and researchers at the Adnan Menderes University School of Medicine, in Aydin, Turkey, suggests that poor sleep quality is a reason for the sexual problems reported by women with fibromyalgia (FM). The researchers conclude that addressing insomnia and treating disturbed sleep can resolve the sexual problems in FM. The study appears in the International Journal of Impotence Research. If you're interested in the full details of the study, look for the title "Effects of low sleep quality on sexual function, in women with fibromyalgia."
Fibromyalgia is a painful disorder characterized by chronic pain and fatigue – albeit very often it is not considered as an actual medical condition. As the pain may be experienced in localized body regions, it is sometimes hard to distinguish fibromyalgia from conditions like arthritis. Like with patients suffering from arthritis, patients with fibromyalgia often have disturbed sleep. Another common offshoot of FM is a loss of libido and subsequent sexual problems, though the cause of depleted libido is not clear. It is believed that the worsening of the pain during sex could be contributing to the loss of libido. Another theory points to FM medications. But the new study brings in another contender —poor sleep— as the cause of lowered libido in FM patients.
The focus of the study was to find the relationship between lost sleep and sexual problems in fibromyalgia. The team of scientists led by Akin Soner Amasyali studied 54 sexually active and premenopausal women with fibromyalgia. During the study, the researchers used standard assessments of sexual functioning, sleep, fibromyalgia, and depression. These included Female Sexual Function Index (FSFI), Fibromyalgia Impact Questionnaire (FIQ), Beck Depression Inventory (BDI), and Pittsburgh Sleep Quality Index (PSQI).
The study revealed that there was a proportional increase in sexual dysfunction in relation to poor sleep quality. And poor sleep quality in turn was influenced by increased severity of fibromyalgia symptoms. However, the sexual functioning was not impacted by the duration of fibromyalgia suffering nor by age, level of depressive symptoms, or body mass index.
Based on these findings the authors concluded that poor sleep quality in female FM patients was an important cause of sexual dysfunction. And as a logical conclusion, the female sexual function could be enhanced by treating the sleep disorder.
Some of the suggested sleep management treatments include reducing alcohol and caffeine intake, going to bed earlier, and improving bedroom conditions to induce sleep.

Link between sexual functions in women with fibromyalgia
As mentioned earlier, some of the medicines used to treat fibromyalgia may cause reduced sex drive. It is important that people noticing a loss of libido after taking FM medications speak to their doctor about the drop in sexual function. A simple reduction in dose or in some cases, a change of medication can help reverse the libido issue, improve your sex drive, and allow you to enjoy sex again.
However, in some patients, the FM symptoms are so severe that even the thought of sex may be painful. Patients who have to deal with ongoing pain, fatigue, anxiety, and stiffness must strive to put mind over matter. Learning to self-manage these symptoms with healthy lifestyle habits, meditation, medication, yoga, and exercise can go a long way in helping you forget the pain momentarily and even boost your sex life.
Another important aspect is overcoming the negative association between sexual functions and fibromyalgia.
One of the hypotheses connecting fibromyalgia in women and sexual dysfunction is that the woman may be physiologically normal in terms of sexual response, but her psyche and psychological response to sexual activity may be altered.
Another hypothesis suggests that there is a direct link between fibromyalgia, depression, and sexual dysfunction. This is not very far off the mark as depression and anxiety have always contributed to poor sexual functioning in people with chronic pain.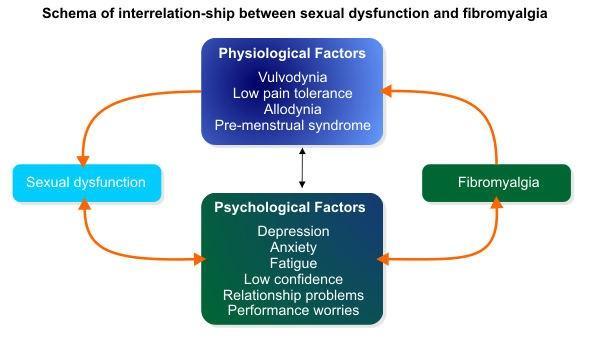 Given the effect a lack of sleep has on poor sexual functioning, physicians treating fibromyalgia could look for the possibility of sleep disorders as well as sexual problems to improve patients' treatment and quality of life. If the patient is willing to try anything to get away from thinking about the pain and worrying about her condition, sex might just be a good escape from it all.
---
Related Reading:
Fibromyalgia symptoms: Does menopause make them worse?
Fibromyalgia symptoms are characterized by widespread musculoskeletal pain, but can menopause make them worse? Fibromyalgia is more common in women than men, so it's important to understand the connection between menopause and fibromyalgia. Continue reading…
Fibromyalgia symptoms in men and women, symptoms checklist, and tender points identified
Fibromyalgia symptoms can vary greatly and overlap with many other health conditions, which can make it much more difficult to diagnose fibromyalgia – especially because the underlying mechanisms still aren't fully understood. Continue reading…
---
Sources:
http://fibromyalgianewstoday.com/2015/12/15/fibromyalgias-impact-sex-drive-traced-disturbed-sleep/
http://www.webmd.com/fibromyalgia/guide/fibromyalgia-and-sex
http://www.news-medical.net/health/Fibromyalgia-and-Sex-Life.aspx
---